TRUE AND FASCINATING CANADIAN HISTORY
1873 - 2013
THE 140TH ANNIVERSARY OF CANADA'S NATIONAL POLICE FORCE
---
---
CHAPLAINS
There has always been a need and a presence of clergy leadership in the police family since the early days of the North West Mounted Police (NWMP). In days of yore, the role of the clergy was to marry and to bury -- the former of the two here mentioned eventually led to the latter but in both cases there was an appeal for the protection of God. And for protection and inspiration, police officers -- sober or otherwise I hasten to add, traditionally have looked and listened to their Chaplains.
The Chaplain's Page is a place of reflection and renewed spirit for police officers. Police officers manage under two extremes; moments of boredom mixed with days filled with frightening, sad and hopeless cases. My recollections of patrol days in 'E', 'L' and 'O' Div's are fond but sometimes police work (in the office or outside) seemed akin to the delicate lift of an ignited piece of dynamite with an eye dropper.
The days are past, I hope, that police officers think they can adapt to the rigours of their work and its dangerous environment without healthy nourishment which can only be offered from outside the Force. Sources of help are available to police officers from; first, spouse and family, then medical doctors, counsellors and colleagues, phychologists, supervisors and specialists, clergy, psychiatrists, nutitionists and others helpers including well intentioned Vets.
In my view, the well functioning police officer is the one who stays healthy (heart, body & spirit) and regularly takes advantage of talking with experts about issues at the office which are worrisome. 'Healthy police officers retire, those who do not care for themselves expire.' (JJHealy)
Included in the Chaplains Page are photos -- some of present day serving police Chaplains. One will also see photos of Associate Chaplains and Deacons, retired Chaplains and Chaplains who know the Force perhaps through family. All in all, Chaplains are a friend to police officers and of the police family.
It has been my experience that experts who know the policing world, including Chaplains can give hope. For that, that and that, I tip my Stetson to them.
Reading: Spiritual Strength. 'Chaplaincy program and the role of chaplains'. RCMP Frontline. Rev. Dr. Cynthia Chenard. V3. No. 4. 2009
---
---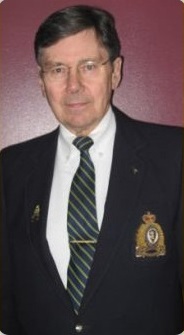 Reverend Dr. Allen D. Churchill
Force Hononary Protestant Chaplain
PRAYER IN MEMORY OF DECEASED RCMP/GRC
Almighty God who judges all in righteousness and holy love, and who saves and sanctifies us by your marvellous grace, we give thanks for those who, having served the Force (RCMP/GRC) with integrity and effectiveness, have passed on to their eternal reward.
Fulfill in them the ultimate purpose of your love, that the good work which you began in them might be perfected at the day of Christ's return. Let the memory of their faithfulness and devotion be an example to us, so that we, being faithful unto death, may at the last receive the crown of life; through Jesus Christ our Lord.
Bless also, O Lord, all those Veterans and Members who have, with deep respect for those who have passed on ahead, joined together in this RCMP National Grave Location and Maintenance Information Website for the purpose of promoting respect and honour among the ranks; through Jesus Christ our Lord. Amen.
This prayer is offered by way of dedication to deceased members of the RCMP/GRC whose grave sites are in the process of identification or discovery and where necessary are tended by the Veterans' Association and Members.
Composed by the Rev. Dr. Allen D. Churchill
Force Honorary Protestant Chaplain and Friend
---
---
A PEW PHOTOS OF CHAPLAINS, DEACONS, PADRE'S
& FRIENDS OF THE RCMP/GRC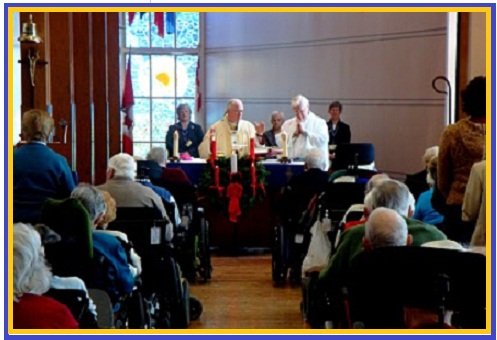 (Left above) Ottawa Archbishop Terrence Prendergast, SJ and
(Right) Reverand Father Jean-Marc Gagne
RCMP/GRC Catholic Chaplain
Years ago, Father Gagné retired from the Canadian Forces. Since leaving the CF's, Father Gagné ministers his priestly duties to the Veterans at the Perley and Rideau Veterans' Health Centre. He also acts as the Catholic Chaplain to the RCMP/GRC.
Photo taken in 2011 at Ottawa's Perley and Rideau Veterans' Health Centre on the Feast of Epiphany. Archbishop Prendergast responded to a special invitation by Father Jean-Marc Gagné to visit the Veterans and to say mass.
---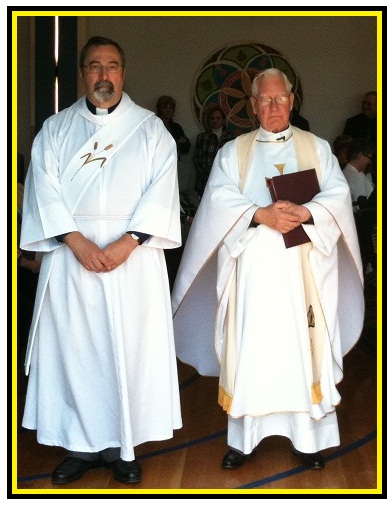 (Left above) Ottawa Deacon and Vets Member Services Pierre Bélanger, Inspector, (R'td) and (right) Reverand Father Jean-Marc Gagné, RCMP/GRC Catholic Chaplain Photo (above) taken at the funeral of Reg.#15067,
S/S/M BMH 'Harry' Armstrong, Riding Master (Rt'd)on April 19, 2011
at Ottawa's Perley and Rideau Veterans' Health Centre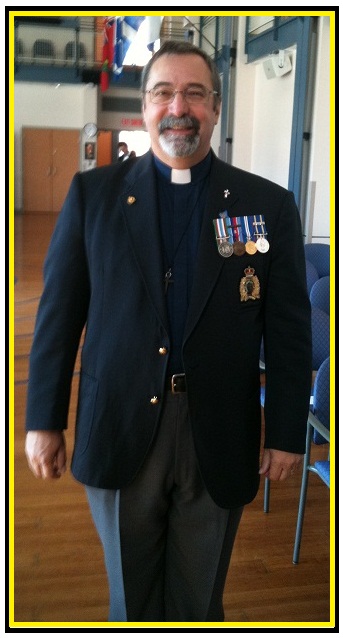 (UP) DEACON PIERRE BÉLANGER, OTTAWA, ON




(DOWN) CHAPLAIN GERRY McMILLAN, ORILLIA, ON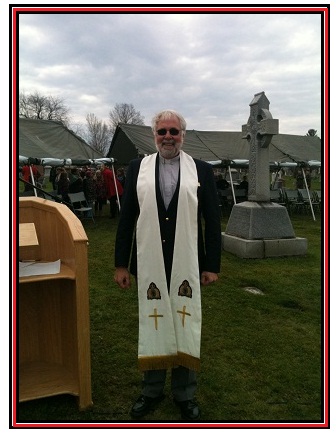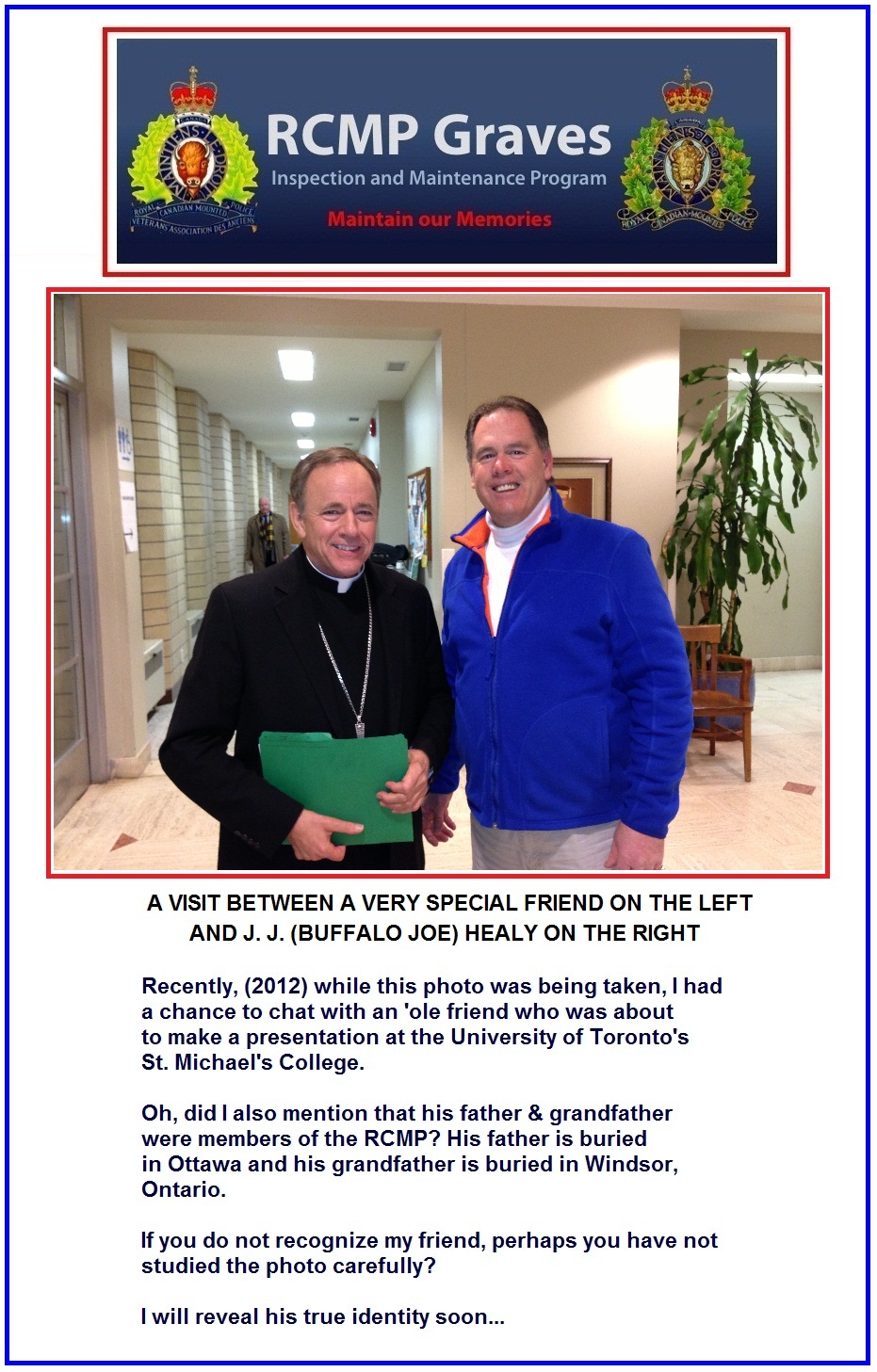 www.rcmpgraves.com