True and Fascinating Canadian History
The 140TH Anniversary Of Canada's National Police Force
1873 - 2013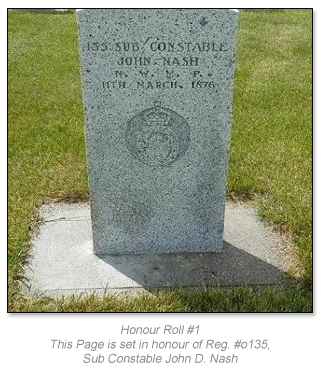 Fort Healy Mail & Memories
One remarkable attribute of the RCMP is the shared trust which people around the world have of the Force. Over the years and over the miles, I have made hundreds of friends while serving on RCMP assignments across America, throughout Africa, Asia, Eastern Europe & Central America. No matter the continent or the country, these friends made a difference in my life. For sure, I was uplifted that these new friends showed an interest in the Force, in the work which I was doing and in me.
My career with the Force was long, rewarding, challenging and exciting. I was very fortunate to have met good friends in a variety of situations at home and in far away places. Apart from all the police officers I met around the world, I was fortunate to meet people from all walks of life.
The work which I do with the graves database, the website and the blog is done voluntarily -- in honour and in memory of all the deceased members of the Force. I am happy to know that the work is deeply appreciated by many due to the letters of encouragement which I receive every day. Thus, I want to reciprocate my appreciation to everyone and say thank you!
I tip my Stetson to all my friends and I extend all my affection to you. Thank you!
I am very pleased to share my memories and some letters from friends on my website.
Friends in Alphabetical Order