The Hall of Colours
Beechwood Cemetery, Ottawa, ON
The Hall of Colours was dedicated as a Sacred Space for Canada's Military, Department of National Defense. The beautiful memorial stained glass window was donated by the Canadian Military Chaplains' Association to pay tribute to Military Chaplains, past and present.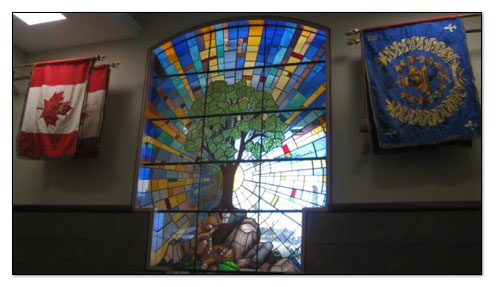 The flags in the Hall of Colours (Regimental Flags)represent two of the largest Canadian military regiments:

The Royal Canadian Regiment, Canada's senior Regular Force Infantry Regiment, and The Royal 22nd Regiment. It is the tradition that the colours will hang in the Hall of Colours, untouched, until they completely deteriorate.

Source: Beechwood Cemetery Website