True and Fascinating Canadian History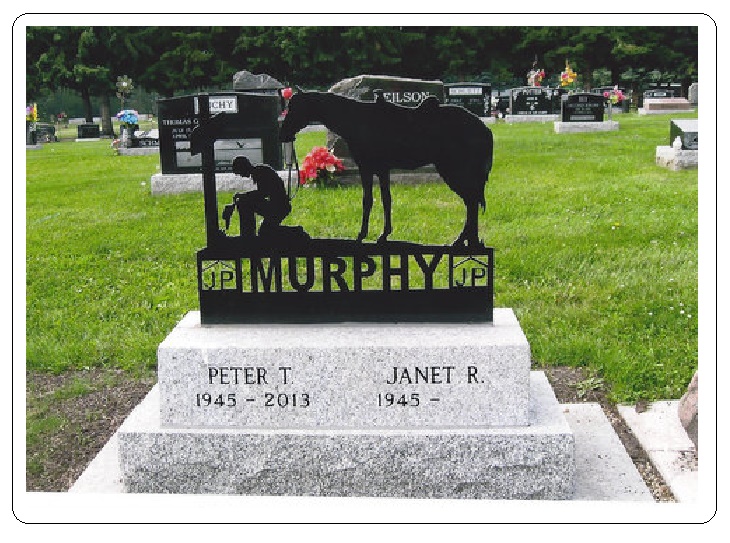 In Memory of Reg.#26954, Sergeant Peter Thomas Murphy
Alto Reste Cemetery. Red Deer, AB
RCMP Graves: Unique -- Canada & America & England
Over many, many years RCMP Vets and countrywide volunteers have been extremely generous with their time and exploration skills to find RCMP graves in all parts of Canada and the USA.
Casual observers strolling through a cemetery will notice that most grave markers share consistency, for instance, in colour and marble texture. Yet, other grave markers are truly different and they catch the observer's eye. It can be said they are truly unique and impressive.
Unique grave markers might be distinguished by their simplicity, unusual size, special design or for particular markings.
In this section, some of the more unusual styled RCMP graves will be shown.
---
Reg. #236, Corporal Thomas Frederick Pope. March West
Old Catholic Cemetery. Pincher Creek, AB
Courtesy, Mr. Reg Keatley. Calgary, AB

Reg. #363, Staff Sergeant Frederick R. 'Baldy' Morris
Old General Anglican Cemetery. Cranbrook, BC
Contributors: Vet R.D. Preston
& AJH 'Joe" Collinson. Vets Edmonton, AB

Reg. #376, Corporal William James Patterson
Toronto Necropolis Cemetery
Contributor, Jack O'Reilly. Vets Toronto, ON

Reg. #444, Sub Constable Henry Percy Wilbur
Old Town Cemetery. Bathurst, NB
Contributor: Danny McNeil. Vets New Brunswick

Reg. #399, Corporal Harry Holdsworth Nash. March West
Ross Bay Cemetery. Victoria, BC
Contributors: Sheldon Boles, Vets Vancouver, BC
& Merle Armstrong, Vets London, ON


Reg. #2472, Constable Edward Loggin
Ross Bay Cemetery. Victoria, BC
Courtesy, Sheldon Boles. Vets Vancouver, BC

Reg. #613, Constable Joseph David Ashbaugh
Mountain View Cemetery. Vancouver, BC
Contributor: Jack O'Reilly. Vets Toronto, ON

Reg. #1448, James Sandy McDonald
Holy Cross Cemetery. Fort MacLeod, AB
Contributor: Mr. Reg Keatley. Calgary, AB

Reg. #2015, Constable 'Sandy' Garrison
Evergreen Cemetery. Tucson, AZ. USA
Contributor: Marle Armstrong. Vets London, ON

Reg. #2045, Constable Albert Boyd
Bissel's Cemetery. Grenville, ON
Contributor: Merle Armstrong. Vets London, ON

Reg. #506, Constable Thomas Edmonds Wilson
Old Banff Cemetery. Banff, AB
Contributors: Marie Armstrong. Vets London, ON
Volunteer Reg Keatley. Calgary, AB
& A/Comm'r. Brian Brennan. CO 'H' Div. 2014
Reg. #2442, David Gilliland Latta
Edmonton, AB
Reg. #2506, Constable Alfred Mortimer Gustin
St. Thomas West Cemetery. St. Thomas, ON
Reg. #2702, Constable James Albert Pringle
Provincial Home Cemetery. Kamloops, BC
Reg. #3058, Sergeant Major Arthur Herbert Lindsay Richardson
Cathedral Church of Christ Cemetery. Liverpool. England
Reg. #3886, Constable William Herbert White
Wheeling, WV. USA
Reg. #3005, Constable Josef Sinkiewicz
St. Mary's Cemetery. Prince Albert, SK
Reg. #4049, Constable James Nathanael Edwards
'Depot' Cemetery. Regina, SK
Reg. #3019, Constable David Cecil Baldwin
Union Cemetery. Calgary, AB
Reg. #4199, Regimental Sergeant Major George Logan
Mountain View Cemetery. Vancouver, BC
Reg. #4484, Constable Gerald Plomley
South Park Cemetery. St. Thomas, ON
Reg. #4622, Sergeant Major Walter Granville Bradley
Beechwood Cemetery. Ottawa, ON
Reg. #4664, Sergeant Henry Charles 'Casey' Oliver
Old Banff Cemetery. Banff, AB
Reg. #4920, Constable Robert James Fleming
Regina Cemetery. Regina, SK
Reg. #5176, Constable Everett Myriel Cochrane
Mountain View Cemetery. Vancouver, BC
Reg. #5365, Constable Frank Moult Bostock
Reg. #8846, Corporal Matt Lauder Vallance
Forest Lawn Cemetery. Los Angeles, CA. USA.
Reg. #4934, Constable Russell Charles Mansfield
Rose Hill Memorial Park. Whittier, CA. USA.
Reg. #1790, Constable Charles Andrew Keer
Mount Pleasant Cemetery. Seattle, WA. USA.
Reg. #26914, Sergeant Guy Raymond Joseph Landry
St. Therese D'Avila Cemetery. Marionville, ON. Canada.
Reg. #2648, Constable Charles Prentice Dwight
Mount Pleasant Cemetery. Toronto, ON. Canada.
Reg. #3154, Staff Sergeant Frank Joseph Smith
Old Auburn Cemetery. Auburn, CA. USA.
Reg. #1067, Sergeant John Ley Retallack
Mountain View Cemetery. Vancouver, BC. Canada.
Reg. #8992, Constable Wilfred Adelard Ponton
Beverley National Cemetery. Beverley, NJ. USA
Reg. #9020, Constable Gordon Bray Cumming. WWII
Cambridge American Cemetery. Cambridge, England
Reg. #2917, Constable Richard Patrick O'Loane
Arlington National Cemetery. Arlington, VA. USA


---
---