The Cst. Terry Hoey Memorial Service
Honour Roll #81
by Toronto Vet Jack O'Reilly
& J. J. (Buffalo Joe) Healy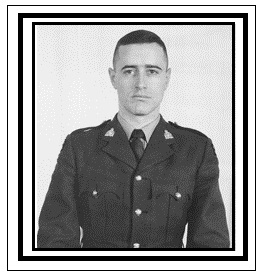 On November 7th, 1958, Reg. # 20307 Cst. J. Terrence Hoey was on regular police duty when he killed by a shotgun blast at Botwood, Newfoundland. At the time, he was in the process of investigating a possible murder. R.I.P.
On November 7, 2008, fifty years to the day of his death, a very meaningful and emotional Memorial Service was conducted at Constable Hoey's gravsite in Peterborough, Ontario. The Service was an opportunity to recall the life of Constable Hoey and to pray for a memorable and loving son, a brother, a friend and a member of the Force. The Service was arranged in cooperation with the RCMP Toronto Vets, the Peterborough Vets and RCMP District Commander Inspector Glenn Hanna.
The seed to begin planning for the Memorial began with Toronto Vets Jack O'Reilly and Wayne Barry. The two Vets were the principal organizers of Cst. Hoey's Memorial service. The actual planning began when Jack and Wayne contacted the RCMP during the summer of 2007 to suggest a 50th year Memorial Service. District RCMP Insp. Glenn Hanna was in complete agreement and later, after the Memorial Service, he was highly complimented for all the work which he did towards the Memorial Service. In Peterborough, Inspector Hanna also received additional help from Vet Ralph deGroot who was in Terry's Troop at 'Depot' in 1958.
The Service was held at St. Peter's Cemetery, 895 Monaghan Rd at 10:00 on November 7, 2008. RCMP Chaplain Gerry McMillan presided.
In memory of Reg. #20307, Constable John terrence Hoey

Toronto RCMP Vet Jack O'Reilly (center)
participated in the Memorial Service
Originally, only 10 people were expected for the Memorial Service, however, it quickly escalated as more and more people heard about it. In the end, over 80 friends and family turned out to honour Cst. Hoey. The group included members of Terry's family, representatives from the OPP and the Peterborough Police. RCMP 'B' Division (newfoundland) was represented by Sgt. Harold Nippard.
This speech was presented at Terry's Memorial Service. It was given by Scott Fryer, son of Patricia Fryer who was Terry Hoey's youngest sister.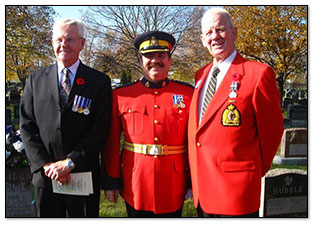 Vets Paddy Ryan (left) and Ralph DeGroot (right) were troopmates of Terry and they attended the Memorial Service.

In the photo, they stand on either side of RCMP Inspector Glenn Hanna.