True and Fascinating Canadian History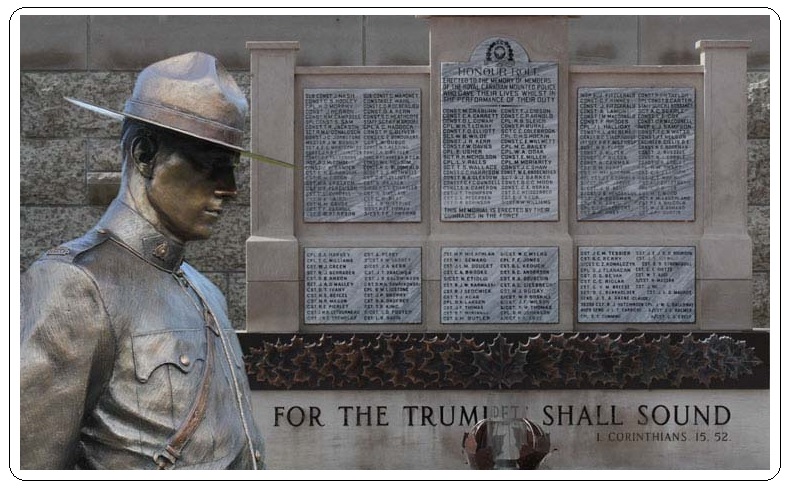 In Memory of RCMP Members on The Honour Roll
Died While Serving.
Courtesy of Sheldon Boles. Vets Vancouver, BC
Vet of the Month
Fond Recollections of Friends Not Forgotten
This is our 'Vet of the Month' segment. Here are stories of Veterans -- young Vets and some much younger. Some stories may not seem too spectacular for most of us live average lives. Yet, some lives are not so ordinary.
Begin, for instance, with our members who served Canada in war. We can be very proud of them -- many sacrificed their lives for Canada. They did not come home. They are buried under foreign soil; South Africa, Vimy, Italy, Belguim, Ireland and England. Due to long distances, loved ones from Canada cannot easily visit them. Others were lost at sea. RIP.
The incribed names on the RCMP Honour Roll at 'Depot' remind us of the members who lost their lives mostly on Canadian soil. Some members died in foreign countries while also in the performance of RCMP international police duties. Families have been forever changed -- happiness replaced by questions which have no answers. Loneliness has no love. RIP.
Everyone's life has peaks which stir interest in us. Here, we pause to recall someone within our family or maybe a friend who influenced our life in some way. We cannot help but reflect back to the time, place and the valuable lessons which they imparted to us. RIP.
Vets, members, families and friends are invited to participate in the 'Vet of the Month'. Please send me your story and photos for inclusion in the 'Vet of the Month' website segment.
The first 'Vet of the Month' story will be released on the 135th anniversary of the Force which is May 23, 2008.
A story of a different Vet will be released every month thereafter.
---
---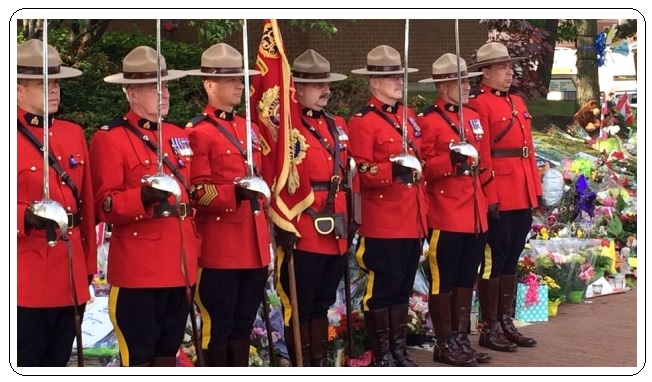 Vet of the Month
2017
November
Constable William G. Boorman. Reg.#12093
December
William Harold McLaughlin. Reg.#7547
September
Constable David Ross. Reg.#54868
October
Corporal Patrick Joseph Ryan. Reg.#2223
July
Staff Sergeant Garnet M. Mowatt. Reg.#19583
August
Commendations Justly Awarded
May
Corporal Randell Scott Leamen. Reg.#35186
June
Commissioner Maurice Jean Nadon. O.484
March
Staff Sergeant Kenn W. Barker. Reg.#14375
April
Corporal George Maxwell Bailey. Reg.#4978
January
Commissioner Stuart Taylor Wood. O.171
February
Superintendent Gilbert Edward Sanders. O.52
^ Back to Top ^
Vet of the Month
2016
November
Constable Arthur Raymond Vincent. Reg.#4888
December
Sergeant Reginald Waldo James. Reg.#12613
September
RCMP Vets as Canadian Volunteers
October
Superintendent Richard Burton Deane. O.49
July
Constable Leo Francis Cox. Reg.#9818
August
Superintendent Charles Constantine. O.79
May
Constable Malcolm Morrison. Reg.#3819
June
Sergeant Mark Charles Gallagher. Reg.#46470
March
Chief Superintendent Eric Porter. O.381
April
Superintendent Daniel G. Thompson. O.646
January
Constable Dereck Danells. Reg.#47041
February
Sergeant-Major Harold A. Hunter. Reg.#12088
^ Back to Top ^
Vet of the Month
2015
November
Vets of a Golden Age
December
Superintendent Alexander S. McNeil. O.425
September
Sergeant James Lumb. Reg.#12851
October
Sergeant H. R. 'Rick' Parken. Reg.#24361
July
Corporal Leonard George Thacker. Reg.#10895
August
Chief, Robert M. Brent Crowhurst. Reg.#24968
May
Sergeant Major Edward Hilliam. Reg.#2983
June
Constable Charles H. O. Lloyd. Reg.#13023
March
Staff Sergeant Fred Rasmussen. Reg.#20113
April
Superintendent Richard Burton Deane. O.49
January
Assistant Comm'r. R. C. G. Williamson. O.532
February
Corporal Charles George Fairman. Reg.#9520
^ Back to Top ^
2014
November
Constable Basil C. Conroy Warde. Reg.#4989
December
Assistant Commissioner R. M. Culligan. O.731
September
Constable Lewis James Byers. Reg.#4574
October
Cst. Gordon Frederick Counsell. Reg.#11298
July
Sergeant Thomas W. Foster. Reg.#16602
August
Constable John Newton Murray. Reg.#12036
May
RCMP Chaplain Archbishop M. C. O'Neill
June
Sergeant Harold George Searle. Reg.#14011
March
Superintendent W. F. MacRae. O.645
April
Assistant Commissioner H. P. Tadeson. O.515
January
Deputy Comm'r. George L. Jennings. O.147
February
Sergeant Jimmy Coughlin. Reg.#12511
^ Back to Top ^
2013
December
Corporal Donald M. Gavin. Reg.#23693
November
Sergeant Major Harry Henry Lett. Reg.#3156
September
A WWII Vet Passes Away
October
Constable G. R. Pearkes, VC. Reg.#5529
July
A CSM Passes Away
August
Sergeant F. C. Douglas. WWI. Reg.#11322
May
The RCMP Celebrates its 140th Anniversary
June
Staff Sergeant James R. McFarland. Reg.#12402
March
Constable Archilles Rouleau. Reg.#497
April
Special Constable Stanley Kubin
January
Staff Sergeant E. J. Ruttan. Reg.#14040
February
Constable Gregory J. Pichler. Reg.#45032
^ Back to Top ^
2012
January
Constable John Edey. Reg.#3883
February
No Ordinary Tailor
March
Those Who Lie In Unmarked Graves
April
Sergeant W. J. MacLellan Reg.#20576
May
Sergeant D. G. Holmes. Reg.#23464
June
Chief Superintendent Doug Coates. O.1875
July
Constable George Ernest Willmett. Reg.#4584
August
Vets of a Very Memorable Variety
September
A Memorable Vet With Legs
October
Great Apples in an Orchard of Inspiration
November
Constable Adrian Oliver. Reg.#57673
December
A Very Dear Troopmate, Christmas And A Baby
^ Back to Top ^
2011
January
Constable John Kidd. Reg.#9221
February
Corporal Ernest Henderson, Reg.#11912
March
The Mad Trapper
Part I : A Long Awaited Parcel Arrives
April
The Mad Trapper
Part II : RCMP Inspector A. N. Eames
May
The Mad Trapper
Part III : An Ottawa Memorial Service
June
Lt. Col. René A. de la Bruere Girouard

July
Staff Sergeant 'Sandy' Alexander. Reg.#1361

August
Vet Month August

September
Constable Grenville Ingle. Reg.#9639

October
S/Constable Edwin Jefferey Bowen. S/0107
November
Civilian Member Elsie M. Ernest-Nesbitt. C/580
December
Staff Sergeant Bruno 'Bud' Toews, Reg.#15594
^ Back to Top ^
2010
^ Back to Top ^
2009
^ Back to Top ^
2008
---
---
















---