A Magnificent, Monumental, Memorable Mystery
Part II : April 2011
by J. J. (Joe) Healy, RCMP Superintendent, (Rt'd)
with the kindness and patience of friends
whose identities will soon be revealed

---
Dedicated to (deceased) 0.795, Chief Superintendent J. W. 'Jack' White
Police Officer, Historian and Friend
January 1, 1931 to February 22, 2011

Jack now knows the secret answer to a tremendous Canadian mystery
---
A Mystery Series
Part II
'Heroes In My Life'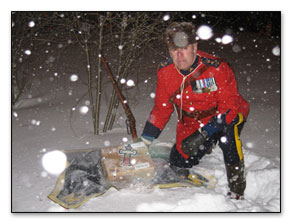 In Part I, published a month ago, I celebrated that I had received a very special gift on the eve of the tenth anniversary of my retirement from the RCMP. A parcel had arrived in the mail. I had waited a very long time to hold it. To grasp the deep significance of the parcel, I have to go back many, many years and connect with my childhood heroes including TV cowboys, teachers and well known members of the Force.
Heroes inspire. It's a gift donated freely. Throughout my youth, each hero contributed precious principles to my life. Heroes inspired me to join the RCMP. I experienced a long, exciting and rewarding career in the Force which allowed me to serve all across Canada and to work in several countries around the world.
Life is a math act. The sum of the admirable qualities of my heroes equals the priceless value of the contents of the mysterious parcel.
If space permitted, I could list several benefits of daydreaming. The notion followed me throughout my early school days but it was never accepted by my teachers. Daydreaming was about as popular as a snake bite from a full hooded cobra. I have noticed, however, that over time, benefits of reflection, daydreaming, rest and yoga continue to be advanced in schools. Buddhism has become popular among adults too. The Ottawa Citizen. p.A3 of March 22, 2011 announced that employees of Justice Canada will soon be able to take advantage of 'mindfulness-based stress reduction' based on Buddhist concepts. I'm no expert but I'd guess that the peaceful exercises include: closed eyes, relaxation and reflection. Tends to remind me of something I'd dream up.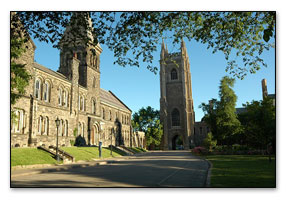 It's not widely known, but some university professors also take advantage of a day nap on a regular basis between scholarly assignments. Years ago, I recall one of my professors who had justly earned a renowned, worldwide reputation. I was impressed by his list of publications. One day, I walked into his office unexpectedly. I found him leaning back comfortably in his chair seemly asleep. New school learning, I thought. I didn't intend to interrupt him but he awoke. He explained that he can best reflect on deep theoretical matters when in a state of repose. I called it daydreaming. Anyway, for the first time in my RCMP career, the thought crossed my mind that perhaps I too should have chosen a career in academia. After all, I explained to the learned professor: '... a mid day snooze was a benefit not offered in my job'. As a police officer, it's difficult to nap and at the same time maintain momentum on a fraud investigation.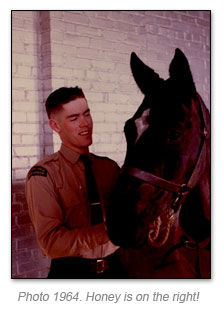 But wow! The benefits of tranquility in the professor's day caused me to think back to the 1950's when I was a young boy. Pedagogy was an unexplored science. Although I was considered a normal, overall, good kid in school, my mind had a tendency to wander in class. I enjoyed the odd fantasy on my teacher's time. But, the trend of the day was against me. Teachers labelled any distraction in class as daydreaming. It was a serious liability in my school. Interestingly, it was said to be unworthy and wasteful in education. I admitted to my parents that I was to blame. Persistent daydreaming resulted in critical remarks on my report card. At one point, the collective opinion of my teachers was that the cure for me might be a stint in the Canadian Army. I always admired our Canadian Infantry and, as a boy, the Canadian Guards were the most impressive. In the late 1950's, the 'Guards' were my principle drill instructors in Cadets. I was sad when they were disbanded, but as a young boy the Canadian Guards had a tremendous impact on my life.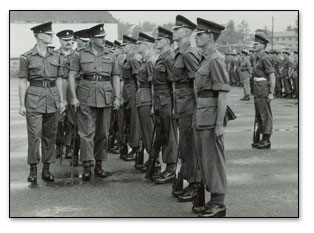 I fondly remember the rough style, immaculate uniforms and the spontaneous quips of Staff Eddy and Sergeant Bailey. On the Parade Square it was sometimes difficult not to giggle at their steady steam of witty remarks. These men had served in WWII.
The red sash, worn by each across their chest was a reminder of the blood given in battle by Canadian soldiers. Heroes all. The red sash held special meaning. I have to admit that recently I've been curious as to what became of their sash's?
Photo:Source: http://www.canadianguards.ca/eason.htm Jimmy (Joe) Eason photos
After a few weeks at the Army Base in Gagetown, NB my father intervened with the Base Commander. I went back to high school. My father and mother loved me.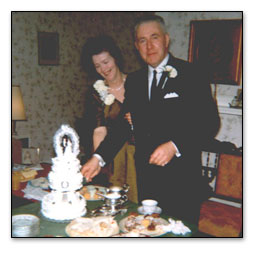 In turn, I admired their everlasting faith that I would somehow succeed. They were kind parents and I also loved them. They were my first ever heroes.
Back in school, my principal, Mr. McGeachy took an active interest in my learning. He designed a scholastic program which was reasonable. He recognized my strengths and interests. He also provided encouragement in other school activities and sports.
Few educators may be considered heroes in Canada but in my mind, Mr. McGeachy deserves the highest award for saving a pupil's life. Mine. He is a hero. Today, we remain friends.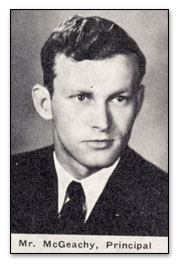 On another occasion, I accidently winked at a girl in 'Trig' and got caught by Miss Alma Douglas. It caused a full blown ruckus in class. Miss Douglas was in no mood for a fair trial. Rather, I was summarily indicted. Miss Douglas sternly pronounced to my classmates that, after reviewing her teaching career which went back some forty years, '…she had never seen the likes of it'! After supper, my Dad more readily accepted my 'lazy eye-lid malady theory'. Years later, after I had joined the Force, I met Miss Douglas in the bank in my home town. She had forgotten 'the Grade 10 wink affair' in trigonometry but she was proud that I recognized and spoke with her. I reminded her that I had joined the Force. I realized it was likely to be the last time that I would see her. I had saved sufficient kisses, so I deposited a wee one on her cheek. She hardly resisted. It may have been her only one.
Then we said good-bye. Miss Douglas was an excellent teacher, a memorable and expert mathematician. Teachers were friends. Even today, teachers are very special. I love only one but I am indebted to them all. My heroes.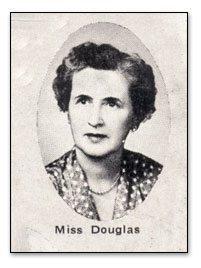 Yet it's true. Daydreaming was a high danger act for a young boy. Not unlike the activities of James Bond. As a by-product of time lost, daydreams did not have whole hearted respectability among many adults. My early TV heroes; Lash LaRue, Roy Rogers, Red Rider and the Lone Ranger were largely to blame for my idle pursuit. I credited daydreams for churning out endless, colourful, exciting imaginations. Events played out in my dreams ended mostly in peaceful outcomes. Death did not enter my mind. Instead, I dreamed in a world of hope. Vulgarity and obscenities were not practices of my TV heroes. I was a cowboy living in the old west with my horse, Honey. She was Olympic material – shiny, responsive, majestic and trustworthy. I was a boy -- another person in another time.
I called my heroes by first name; Lash, Roy, Red and the Ranger. A Canadian TV actor, Tonto, was my survival skills instructor. As a cowboy, my mandate was simple; protect new immigrants to the west. Saving lives was a high priority. I expected no reward. There were few written rules, life was simple. I didn't understand the rule of law but I did believe in fair play. Bad guys also deserved justice. I offered outlaws options; first, a warning and perhaps a few reprimands. I recall that my gun was kept holstered. Every consideration was given to ensure that outlaws were taken alive. I set traps to capture them. I felt it was senseless to kill anyone thus men were viewed worthy of capture. Allow the courts to speak. I admired the qualities of the TV cowboys; daring, brave, fair, upright, disciplined, protecting those in need, protecting life. All fine equestrians. My favourite cowboys demonstrated these attributes. Worthy qualities for any man, I thought. Cowboys were my early heroes.
In high school, I realized that my parents and teachers had certain expectations of me. It seems they collaborated together about my future career – for sure it included higher learning. But, I dreamed of horses and outdoor living on the prairies. Performing good deeds was my priority, and if time allowed, perhaps some romance. My life as a cowboy made higher education impossible. I dreamed that my heroes would agree with my viewpoint. Dreams have the advantage of flowing in the direction of the dreamer.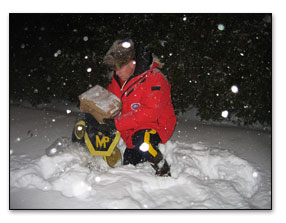 I was born in the early 1940's. I was confined to the limited world around me; a small town in south western New Brunswick. It was surrounded by forests where my pals and I were free to roam and explore safely. Summers were long and I had ample time to practice skills which Tonto identified as important for survival. I learned to build a fort, harvest supplies, construct bows and arrows and chase rabbits. I bought my first Red Rider BB rifle. In the bush, perhaps I'd meet a bear. I had to ensure that life inside the fort was protected and sustained. I admired Tonto's loyalty to his masked partner. Tonto was a favourite hero. As an aside, I've wondered what became of the silver spurs worn by the Lone Ranger after he passed away?
Winters in my youth were particularly harsh. Winter survival was very serious business. My favourite comic hero was the RCMP's Yukon Sgt. Preston and his dog King. Weather conditions in New Brunswick differed little from the freezing conditions in the Artic. Sgt. Preston maintained law and order in the north. He fought to survive in the Artic's harsh, unforgiving deep freeze environment. I did too. I learned how to build a snow fort. Instinct said that my snow fort required insulation. I had to be ready for the possibility of every danger. My mother complained that blankets and pillows went missing from our home. I also needed enough food for my dog. At the time, teen smoking and watching Elvis' hips on TV were also on the danger list. Comics books too. As a seven year old boy, there were no street drugs, but if I had been reading a comic and got caught, it was equivalent to being 'found in possession'. Nevertheless, I read enough comics to learn how to ski and snowshoe. Sgt. Preston implied that these skills were necessary for trapping and survival in the Artic. I tried my best to emulate the life of Sgt. Preston and his partner King. They were heroes. I only had time for heroes.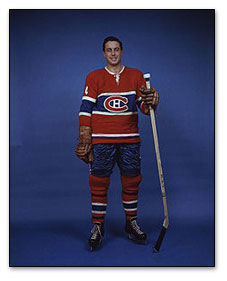 Jean Béliveau was unquestionably my larger than life hockey hero. His father had been a Quebec police officer. I had a simple option with hockey sweaters; red or blue. It was an easy choice. Montreal's red was mine. I wouldn't let my mother take it off when I went to bed. To me, Jean was huge yet his broad strides on skates made him faster on ice than any other player.
Béliveau was a powerful skater and equally brave. He was always in the midst of the action wherever the TV panned. As well, Jean often offered his body to stop shots. I dreamed that my name was near Jean's on the Stanley Cup. I would have have loved to receive one of Jean's sweaters. After Jean retired and the NHL expanded, my loyalty was divided between Toronto's #27 (now a Canadian Senator) and Boston's #4 (a business executive). These two men were also heroes because of their amazing speed, defensive tactics and their slap shot. They were pioneers in the changing style of Canadian hockey.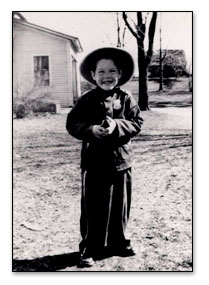 From the time that I was a little boy, I wanted to join the RCMP. I recall my parents taking me to a parade in St. Stephen, NB about 1950. I was wearing an RCMP costume which had been sent to me by my cousins in New York.
Two red coated RCMP constables stopped their Harley's during the parade and each one took a turn to hold me in their arms. I felt perfectly safe. I've never forgotten the memorable impact that they and the Red Serge had on my life. The pair of RCMP on their Harley's became fast heroes.
In school, I began reading books on the Mounties. One of my first books was 'Mounty in a Jeep' by author T. Morris Longstreth, published by The MacMillan Company. New York, 1949. 'Mounty in a Jeep' follows the fictional activities of a young recruit by the name of Sam Acton. After basic training, he had been posted to a small Detachment in Alberta. Sam had been given a jeep by his father and he used it to pursue criminal investigations. Sam Acton was another hero in my dreams. In the mid 1960's, after I joined the Force, one of first police cars in 'E' Div. was coincidentally a jeep. NellyBelle.
In Grade 4 history, Superintendent Sam Steele popped up. He had always been considered the most famous of Canada's North West Mounted Police. He was an adventurer and his life style added fuel to my dreams. I admired Superintendent Steele when I read that his life was lived mainly outdoors. I did too in my dreams. Sam Steele was reputed to be an experienced horse trainer.
The 'toughest to train horses' were given to him. He never failed. In addition to being an excellent rider, he was also expert in hunting, exploring and tracking. He was highly disciplined and he set high standards for recruits under his charge. He gained the trust of his junior ranks. Superintendent Steele was dispatched to the hot spots in early Canada. His career took him to posts across the prairies, to the Klondike Gold Rush and to South Africa.
Aboriginals accepted his promise to enforce the rule of law. To Superintendent Steele, everyone was subject to the same law. He contributed greatly to peace among men during the construction of the CPR. Although an expert with the rifle and the pistol which he carried, Superintendent Steele preferred peace over violence in the settling of disputes. His legacy is firmly based on his reputation as a man whose life was grounded in fairness and honesty. Superintendent Steele was an early NWMP hero whom I would have been proud to have served under. In recent years, his collection of letters, medals, swords and uniforms has been returned to Canada from England. His collection rests at the University of Alberta. I've often wondered if his collection at the U of A is thought to be complete?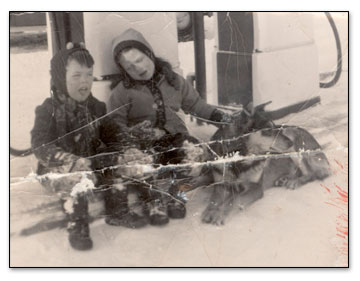 Sgt. John Nicholson Cawsey was a famed member of the RCMP. He and his Police Service Dog 'Dale' were pioneers in the successful introduction of dogs into Canadian police work. As a kid, one of my earliest memories of the RCMP was reading books about Sgt. Cawsey finding a lost child with the assistance of 'Dale'.
Their adventures, as a team, man and dog, increased my dream time. I admired the bond between man and dog. Forever, the dog must be obedient to its master. As tots, my sister and I also had a German Shepherd (Tin) for a pet. He often 'saved' me as I required his help to find my home after a day in the forest. He died after being struck by a car.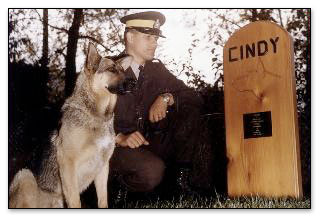 Throughout my career, I've admired the men, women and dogs of RCMP's Police Service Dog Section. I have one sad memory of a time when I was an Officer in a position of authority. At the time, the Officer in Charge of the RCMP's Police Dogs in Alberta required my concurrence to destroy a dog based on its failed performance in an actual situation. Seemly, for some, it may have been small decision but it bothered me afterwards. I wished the dog could have lived, but the Inspector and the Force Veterinarian had a professional obligation.
Young Canadian men and women who join the RCMP are inspired by heroes in the Force. This truth is apparent when I talk with applicants. Applicants connect their hero to a particular incident in their own lives. Perhaps a relative was in the Force; maybe the applicant met an RCMP member at school or in a sporting activity. My hero in high school was Cst. Bill McLellan. One spring afternoon in 1963, he picked me up in his Studebaker cruiser. I had skipped school and I was hitch hiking on the Trans Canada outside St. Stephen, NB. As he approached, I thought surely that I was off to the clink. But, we became friends as he too had once skipped a day of studies in Nova Scotia. Bill was my mentor. He encouraged me to graduate and apply for the Mounties. Solid advice to a young man from a hero.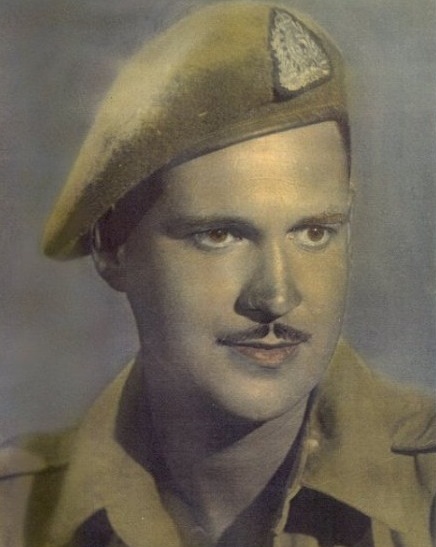 The battles in which the Force has been asked to participate include: the North West Rebellion, the South African War, WWI, Siberia and WWII. While at 'Depot' for basic training in 1964, I studied more seriously the role of the Force in these wars. Many, many lives of members of the Force were lost in these overseas conflicts.
In more recent years, RCMP members have been killed on duty in United Nations Missions. As well, hundreds of members have lost their lives in domestic police duty. They are heroes to all Canadians. Their names are etched in the RCMP's Honour Roll and they are remembered.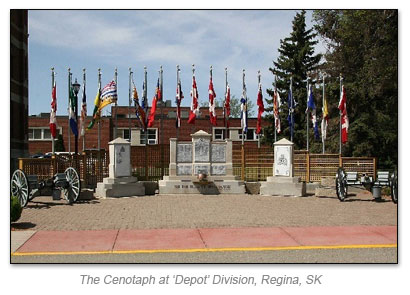 As set out in the Bible, their devotion to Canada and the Force is interpreted as an act of service and love. 'Greater love hath no man than this, that a man lay down his life for his friends'.(John 15.)
Unfortunately, a member of the RCMP, Cst. 'Spike' Millen, did lay down his life and two other men were shot and may have died in 1932 while in pursuit of the Mad Trapper. I heard endless stories about the Mad Trapper known as Albert Johnson. Described as a surly and crazed man, Johnson and his RCMP pursuers of the early 1930's had been the subject of several books and articles. After basic training and once posted to Detachments, I met people who had heard how Johnson had been cornered then killed in a shoot-out with the RCMP. The tale of the Mad Trapper held special fascination for thousands of people, including me -- the many week chase for the Mad Trapper in Canada's north added weight to the legends of the Mounties.
The wilderness chase of the Mad Trapper added mystic to a motto from RCMP movies and deed of the Mounties: 'They always get their man'.
My parents were from Brooklyn, New York. The Mad Trapper chase was broadcast on radio around the world. In their hometown of Brooklyn, my parents heard of Canada's RCMP and their heroic deeds. How could a person not marvel at men in parkas with dogs and sleds braving the Arctic freezing cold while trying to capture the elusive fugitive known as Albert Johnson? The true identity of Albert Johnson remains unknown. Whenever I hear the tale of the Mad Trapper being repeated in conversation, I usually perk up to listen.
Even today, the story of the Mad Trapper holds special interest to Canadians. Not long ago, scientists exhumed the Mad Trapper's body for forensic examination. His body was studied and a TV documentary was made. I have also read several books on the case. I believe that every person in the case deserves credit; RCMP Special Constables, volunteers, trappers, local men, natives, doctors, the Royal Canadian Signal Corps and pilot 'Wop' May. RCMP members also deserve additional recognition for their bravery. Early in the case, Cst. 'Buns' King was shot and wounded by the Mad Trapper. To his credit, the Officer In Charge of the hunt, Inspector Eames persisted in the hope that Johnson would be taken alive.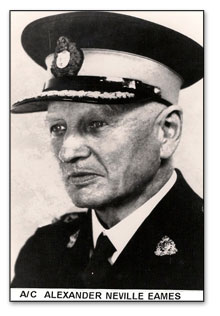 I recalled admirable actions of my cowboy heroes: 'Take'em alive. However, Constable Millen was killed by Johnson and Staff Sergeant Earl Hersey of the Royal Canadian Signals Corps was wounded. In the end, Albert Johnson, the Mad Trapper was cornered and he too was killed.
Members who served on the RCMP's St. Roch also led unbelievable experiences in the frozen north. Led by their Captain, Superintendent Henry Larsen and his men travelled through the North West Passage. They spent a winter locked into an ice flow. Coincidently, at 'Depot' in 1964, my recruit friends and I were handed the unusual duty to dig a grave at the RCMP Cemetery in Regina, SK. After his death, Superintendent Larsen was laid to rest in the grave site beside the one that we had dug.
In recent years, Superintendent Larsen's daughter has sent me messages which have helped in my research. The unusual style of her father's cap badge which I had seen in photos is fascinating. Collectors would love to have it. Captain Larsen and the crew of the St. Rock are heroes.
Conflict leading to death is never an honourable end game in policing. Death is not a glory wished or wanted. The upright posts in life's end zone are only two; fairness and justice. Preserve life and protect property. These are the glories of heroes. Hence, my dream theme always was: 'Take'em alive'. Seems to ring somewhat similar to the RCMP's motto 'Maintiens Le Droit'.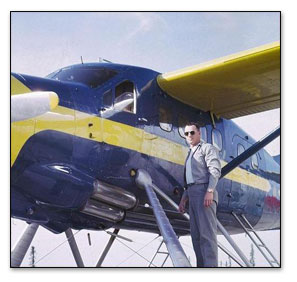 The history of the RCMP often reads as a tale of heroes. The March West, settling of the West, the North West Rebellion, WWI and WWII, the tale of the Mad Trapper, services of the Police Dog Section, work by 'Air' Division Services and the exploratory Voyage of the St. Rock -- each revealed inspirational qualities by some of the most famous and colourful of my Mounted Police heroes. Heroes in my life.
---
This is the end of Part II
There are seven parts to this mystery series.
---